KETUBAH TEXTS: CHOOSING AN APPROPRIATE TEXT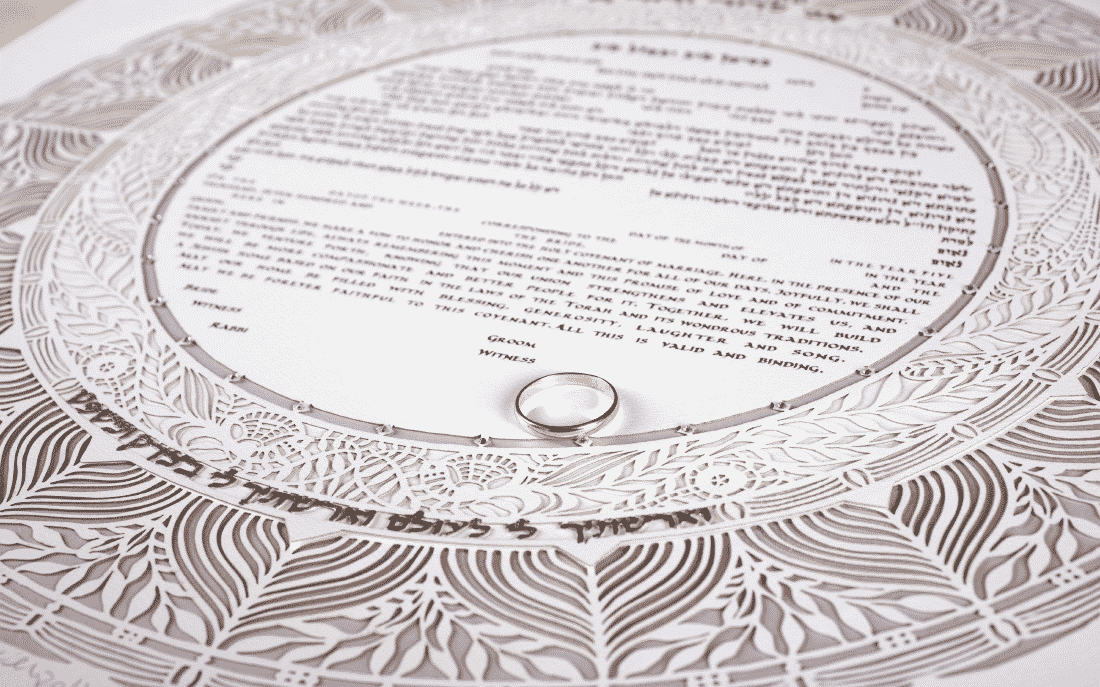 PERSONALIZE YOUR WEDDING DAY WITH A KETUBAH TEXT FOR JEWISH, INTERFAITH, OR SECULAR CEREMONIES
The traditional Aramaic Ketubah text reflects a long history of Jewish values and culture. Historically, the ketubah is a legal Jewish wedding document that outlines a groom's obligations to his wife, including financial terms which are clearly delineated.
Today, as well as the Orthodox Aramaic text, alternative ketubah texts are available for young couples. When planning a wedding, couples can choose a ketubah text that truly expresses their own personal values and is appropriate to their vision of marriage.
Ketubah texts have rapidly evolved over recent years. Some texts emphasize a veneration of tradition and the continuity of the Jewish family, while modern ketubah texts often put an emphasis on a more egalitarian view of marriage–one based on love and a shared vision and more suited to the individual couple's needs.
So, how do we know what kind of ketubah text we need?
Before choosing a Ketubah text (especially in the case of Orthodox or Conservative ceremonies) it is important to consult with the Rabbi about the official requirements. The Ketubah text is determined by the couple's wedding preference: Orthodox, Conservative, Reform, Reconstructionist, interfaith, as well as other options.
Nowadays, couples can choose from a variety of texts which fit their specific requirements. The well-known ketubah artist, Danny Azoulay, offers beautiful papercut ketubahs, in a variety of Ketubah texts and languages:
Orthodox text – Aramaic
The traditional Aramaic Orthodox text is derived from the original ketubah text that outlines the groom's financial obligations to his bride and has been preserved by Jewish tradition for hundreds of years. This Ketubah text is accepted by the Rabbinical Council of America (RCA)
Orthodox text with English – Aramaic with English
The traditional Orthodox ketubah text (RCA) which includes an English codicil to the Aramaic text that describes a marriage based on faith, love and commitment.
Reform text – Hebrew with English
Written in modern Hebrew and in English, this ketubah text focuses on the couple's mutual Jewish faith and their commitment to cherish and support each other in their marriage.
Conservative text -with Lieberman clause – Aramaic with English
A traditional Aramaic text with the addition of the Lieberman Clause (in Aramaic), which affirms the groom's promise to give his wife a Jewish divorce (Get) if she requests one.
Interfaith text -Hebrew with English
These texts are designed to suit interfaith couples building a home together and are respectful of both backgrounds and faiths.
Custom text
This option is intended for those couples who wish to write their own text;
These texts can be gender-oriented and therefore suitable for same-sex marriages or commitment ceremonies.
Danny Azoulay Modern Ketubahs specializes in creating beautifully-designed, contemporary art ketubahs for all couples whether they be Jewish, interfaith, same-sex, or multi-cultural.