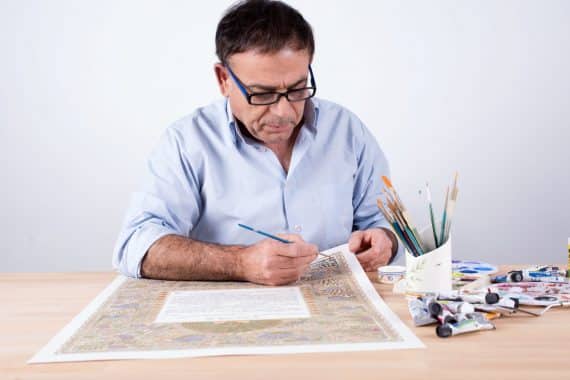 Daniel Azoulay is a Jerusalem artist who combines traditional and modern media to create finely-crafted Judaica. Arriving in Israel as an infant from Morocco, Danny is a Bezalel graduate and Rosenthal prize winner who recently, returned to the art academy after twenty-five years, completing a Masters degree in Design.
He lives in the village of Tzur Hadassah in Jerusalem hills with his wife and four children, Dorin, Elad, Kelli and Hallel.
My Inspiration
The departure point of my art is drawn from Jewish traditions and the richness of its symbolism and folklore. My interests are varied and my taste tends to be eclectic, so the idea of blending different elements from diverse areas of the world into a singular composition attracts me. I, myself, am a transplant from Morocco to Israel, and the fusion of past and present, East and West, traditional and modern is key to the art I strive to create.

I believe that the best art echoes our origins, is relevant to the world we inhabit and beckons us forward to fresh beginnings. The process of coming up with ideas and designing ketubahs is an artist's dream. Marriage is, perhaps, the most significant of the life cycle events, and being involved in the process of making ketubahs is to be continually challenged to explore, recreate and renew my aesthetic vision and my faith.
The Artwork
All of Danny Azoulay's ketubahs are giclee, a modern-day method of lithography, are paper cuts on the finest acid-free paper and hand-embellished with 24 karat gold leaf. Each ketubah is dated, numbered and signed by the artist and is one of a limited edition. The ketubah, not only imbues every marriage ceremony with beauty, but is an artwork to be lastingly treasured by future generations. It is the new couple's first family heirloom.