Modern Ketubot: Choosing the Best Ketubah Artist to Capture Your Unique Style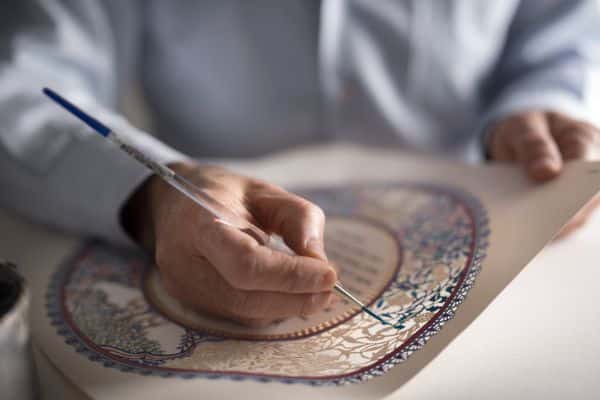 When choosing a Ketubah to immortalize wedding vows, Jewish couples must choose one that reflects their unique style and captures the essence of their relationship. Modern ketubot express a couple's Jewish identity in the present while staying true to its tradition as a marriage contract. Still, it's the custom ketubah's uniqueness and beauty that will be treasured for generations to come.
Creating Jewish wedding ketubahs is an art form unto itself. The result is meant to be as unique as the couple themselves. Custom ketubahs are common in modern Jewish culture, allowing the bride and groom to express their Jewish identity by combining traditional ketubah themes and personal style and preferences.
Jewish wedding ketubahs serve as a lasting symbol of a couple's love and commitment to one another. Just as the decision to marry and the wedding vows are not made lightly, the couple's choice of custom ketubah designs should also be carefully considered.
There are so many details that go into planning Jewish weddings. The day will pass quickly, but the beautiful ketubah will endure. Choosing the right ketubah artist is the first step. An experienced ketubah artist will consider your personality and artistic style and create a custom ketubah that speaks from the couple's heart and soul.
Custom Ketubah Designs: Understanding Your Style and Preferences
Before you begin your quest for a ketubah artist, think about how you articulate your style preferences. Take some time to reflect on the artistic elements that resonate with you, such as colors, patterns, textures, and themes.
When you think about the atmosphere you want to create on your wedding day, your beautiful ketubah can play into that style and contribute to the overall vision. Indeed, couples that enter the process with a strong sense of personal style and artistic direction find it easier to choose a ketubah artist they will be happy with.
Do some research. Explore the many expressions of modern ketubot. There are so many styles to choose from; you might have one idea at the outset but become amazed at all the possibilities. From watercolor ketubahs to papercut ketubahs, traditional ketubah themes, and custom ketubah designs, the right ketubah artist will capture your essence in a beautiful piece of art that is as unique and captivating as your love for each other.
Ketubah Process
Be sure to look at as many ketubah artists as you can. Ketubah artists are highly specialized in their craft, but each has a specialty and a certain flair.
Find a Ketubah Artist
Search engines, social media platforms, and online art marketplaces are excellent places to discover talented ketubah artists. Browse their portfolios and check out all the styles they specialize in. Look for artists with experience creating custom ketubahs that speak to your aesthetic preferences. Remember to use the target keyword "Ketubah Artist" in your search to find the most relevant results.
Reviewing Ketubah Art Portfolios and Previous Work
Once you've shortlisted several ketubah artists whose work you like, dive deeper into their portfolios, look at previous work, and read testimonials from past customers. Ideally, you want to work with a ketubah artist fluent in many diverse styles and techniques, as this indicates their ease in working with custom ketubah requests. Notice the level of detail, quality, craftsmanship, and artistic appeal of their past work to understand their creative and technical skills and determine whether they can meet your expectations.
Review the Ketubah Artist's Client Testimonials and Reviews
As mentioned above, client testimonials and reviews should be considered. Previous customers' experiences indicate how easy the ketubah artist is to work with and the level of customer satisfaction you can expect. Look for feedback about the ketubah artist's communication, professionalism, and ability to understand and incorporate custom ketubah preferences. Positive reviews and testimonials are an encouraging sign that the artist is reliable and capable of creating ketubah art that you will love.
Budget and Timing: What it Takes to Create Your Beautiful Ketubah
Budget and timelines are essential to consider before you engage in the creative process. Each ketubah artist has different pricing structures, and the time it takes to create your custom ketubah depends on several factors. The complexity of the contemporary art ketubah, its size, and the materials used all factor into the cost and time it will take to complete. Ensure that the artist's rates align with your budget and that no hidden fees exist. Discussing timelines for the ketubah process is essential to ensure it will be ready well before your wedding day. Factor in some contingency time for good measure—finishing your custom ketubah early is never a bad idea!
Choosing a Custom Ketubah Artist: Listen to Your Heart
Finding a ketubah artist isn't always easy. Many respected ketubah artists are doing incredible work, and you might find it hard to choose. But, like choosing a piece of artwork that will adorn your home and become a family heirloom, you must trust your instincts. Listen to your heart and choose the artist and a beautiful ketubah based on feeling, not practicality. After all, your ketubah is more than just a wedding contract—it's a declaration of love! You followed your heart to find your beloved; your custom ketubah reflects that commitment. Choose well, but lead with love, and you'll always reach your destination.
Final Thoughts
Searching for a Ketubah artist that matches your unique style is an exciting journey that allows you to explore an incredible range of artistic exp