What's Involved in a Ketubah Ceremony?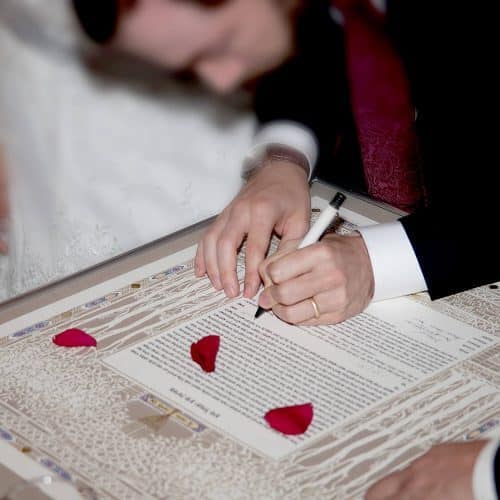 Before a Jewish wedding ceremony takes place, the bride and groom, along with the officiant, two witnesses and perhaps close family and friends enter a private room to carry out the ketubah ceremony, essentially a traditional legal process regarding consent and agreement. The ketubah, originally and traditionally written in Aramaic (the lingua franca of the time), was adopted as a legal document. It is akin to a contract, outlining the obligations of husband to wife such as food, shelter, clothing and handling emotional needs. A Jewish wedding ceremony cannot proceed until the ketubah ceremony is complete.
What's Involved in a Ketubah Ceremony?
In an Orthodox Jewish wedding, the document is signed by two male witnesses over the age of bar mitzvah and unrelated to the bride and groom, therefore, ensuring the document is kosher. That the witnesses observe the Sabbath as well as use their Hebrew name to sign the ketubah is often also required. Though not essential, an Orthodox Rabbi may also sign the document to confirm that the witnesses observe the Sabbath. Interestingly, the bride and groom are not obligated to sign their ketubah, but can do so below the English text (if it has been included). Otherwise, only the Hebrew signatures of the two witnesses are compulsory for the ketubah ceremony to be complete. For a Conservative Jewish wedding ketubah ceremony two unrelated witnesses are still required, however, lines may be included for the officiant, cantor and the bride and groom to sign in Hebrew. In the Reform version of the ketubah ceremony, the witnesses can be related, male or female, Jew or non-Jew as the ketubah is not quite considered a contract, so much as an affirmation of the couples commitment and responsibility to one another.
Regardless of how the ketubah ceremony is carried out. The couple has the opportunity to commission the creation of a masterful piece of artwork with the right ketubah artist – from a paper cut ketubah or gold leaf and enchanting imagery – a work of art to display and enjoy for years to come as well as during the ketubah ceremony. Working with the right artist is key, and working with Danny Azoulay is a step in the right direction.