What's Written in the Jewish Marriage Contact?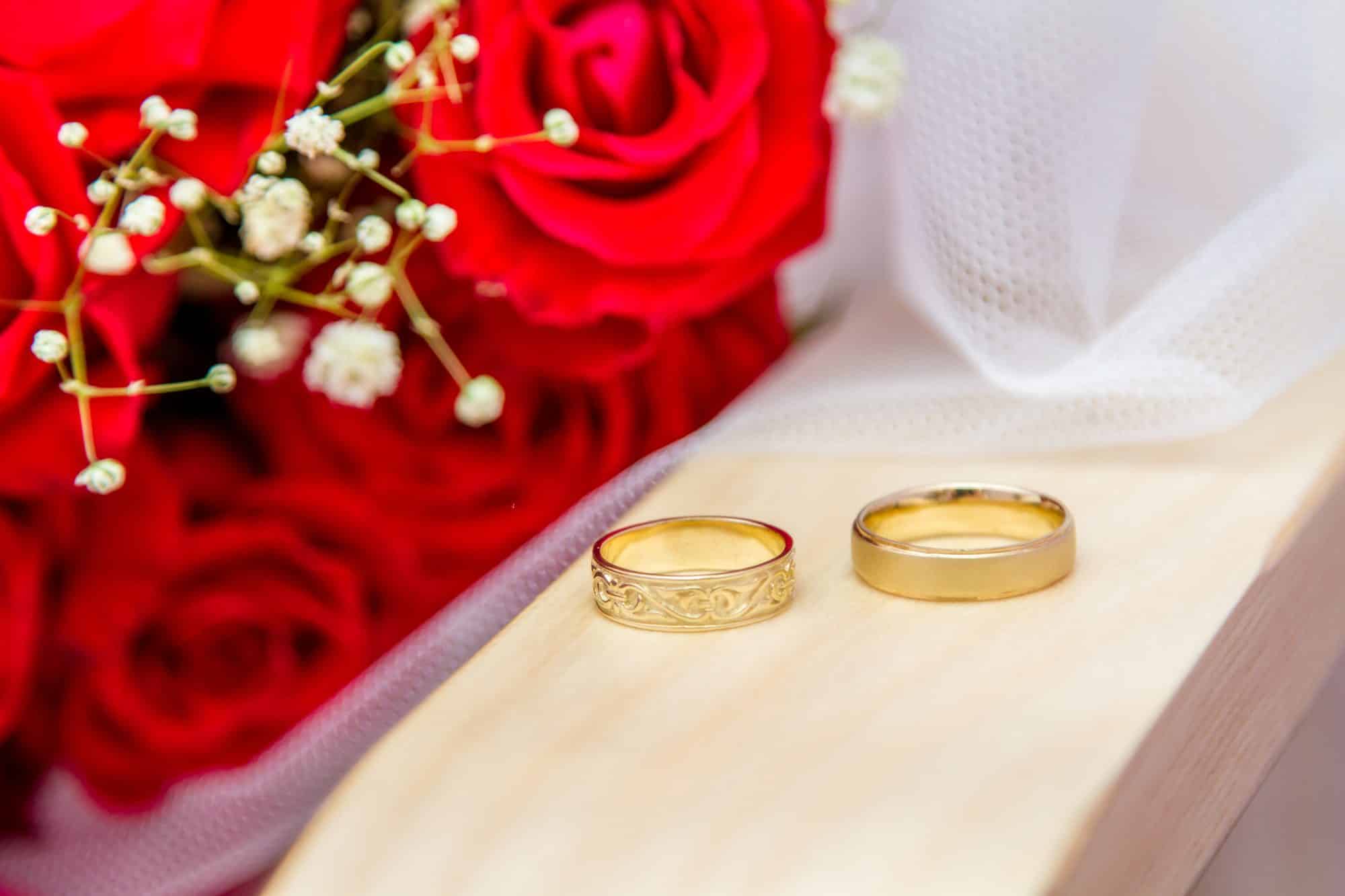 A wedding is arguably the most joyous occasion in a person's life.
The delights of formally starting a new chapter in life– together with your spouse, surrounded by all those closest to you, enjoying great music and food, are just wonderful to experience on every level.
But before we smash a glass and party at Jewish weddings, first of all, the most important of Jewish marriage customs at the wedding ceremony must be taken care of; the ketubah must be signed.
Truthfully, while in secular weddings, couples may sign their marriage contract/license any time before, during, or after the actual wedding day, the Jewish wedding cannot be complete without it. The Jewish wedding contract, known as the ketubah ( literally meaning "it is written"), must be signed before the Chuppah ceremony takes place, and since ancient times, has been an essential element to all Jewish weddings.
But what's in the Jewish marriage contract?
The ketubah uses the classic format of documents made according to Jewish law, or Halacha, stating at the very beginning of the document- the date, day of the week in relation to the Jewish Sabbath, the location at which the wedding ceremony takes place and the exact names of the brides and grooms, including their patriarchal lineage: i.e., Moshe ben David and Sara bat Abraham.  Today, modern communities include the matriarchal lineage as, well—although the Orthodox rabbis still forbid it.
The contents of the Jewish marriage contract, specifically when using the text of the traditional ketubot, lay out the basic responsibilities of the groom; who vows to provide clothing, shelter, food and sexual intimacy to his bride for the rest of their lives together. It also provides a kind of prenuptial agreement protecting the wife with financial compensation in the unfortunate case of widowhood or divorce. This clause not only provided a safety net for a Jewish woman, but also served to dissuade and deter the capriciousness of divorce.
In the past, (and in certain Jewish communities, still today) the ketubah text language of choice was Aramaic- a language that was understood and utilized in legal documents in Talmudic times.  However, there are less-traditional options out there for customizing the text, in modern times. Some Jewish couples have added a translation of the text, as well as the Aramaic, in order that they can better relate to it. This is very much in keeping with the original idea that the ketubah be accessible and understood—gone over carefully before the witness signing ceremony and later, under the chuppah, when it is read by the rabbi/officiant to the ears of all the wedding guests.
Other brides and grooms choose to go with an Aramaic or Hebrew text– and rather than translate the text, they choose to add a codicil in their native language that is representative of a personal view of what their commitment to each other entails.
Marriage contract texts also vary according to religious affiliation and sexual orientation. It's safe to say that there is a Jewish ketubah for all Jewish, same-sex and interfaith couples, that they can relate to and cherish.  An ordinant/rabbi will probably have something to say about this- or even, a specific requirement or particular text…or maybe not.  It is best to check with them before you set your hearts, investing your time in writing a manifesto!
In the 20th century, with the advancement of women's financial and social independence, most modern ketubahs have transformed in their character and purpose– from a more or less standard legal document to a declaration of love and mutual respect, spiritualism, humanist goals- virtually all that the wedding couple consider cardinal to their unique union.
Who signs the Ketubah?
In a traditional Orthodox Jewish wedding, the marriage contract is signed by two ketubah witnesses of choice, who must fit the following criteria; (1) Jewish, (2)male adults (post-bar mitzvah) who are (3) Sabbath-observant  and (4) unrelated to either the bride or the groom. The groom and the rabbi are not necessarily required to sign.
Conservative, Reform, Reconstructionist and Secular Humanists are open to non-observant women as well as, men and maybe even your cousin.  Of course, you should check with your ordinate/rabbi (who just may be a women) just in case they have stipulations for the signing ceremony .
Today, ketubahs are signed by the brides and groom as well as the officiant/rabbi and include two signing witnesses, but may also include many more.
The ketubah signing usually takes place in a quiet secluded area in the wedding venue that provides a bit more intimacy, immediately preceding the wedding ceremony but this is not a set rule. It can be as private or public as the couple deems. Of late, it has become popular to have the ketubah signing ceremony as a separate pre-wedding occasion.
How should you store your ketubah after the Wedding Ceremony?
To put it lightly, the marriage contract is extremely important to store well and keep track of at all times. In fact, traditional Jewish law, recognizing its significance, was said to have pronounced that a married couple should not engage in physical intimacy if they didn't know the whereabouts of their marriage contract. They were to refrain from intimacy until the document was found or rewritten.
So, what do a lot of Jewish couples do to keep track of their marriage contract?  Well, many of them hang it on the wall! Thankfully, there are many talented ketubah artists like Danny Azoulay, who create ketubahs that are not just plain ketubot, but masterful works of art. They want to hang them up and in a prominent place in their homes and look at them and then look at them some more, and remember their wedding day….
Azoulay art ketubahs feature detailed papercuts, along with a stunning mix of color or monochromatic palettes with gold-and-silver-leafing. They beautify and elevate your marriage contract into a meaningful piece of art that is display-worthy, a veritable family heirloom, that will be enjoyed and treasured for the rest of your lives together.