Beyond Tradition: The Art of Unique Ketubah Designs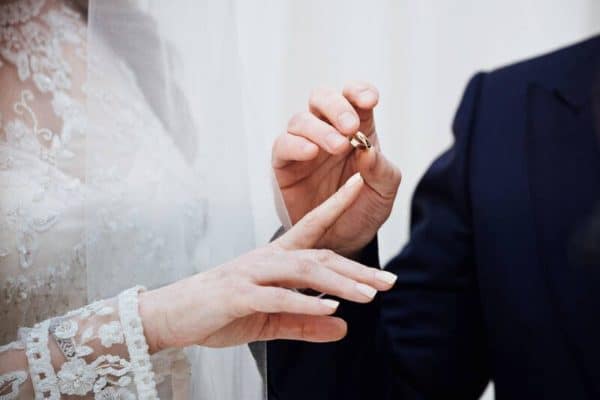 When we think of the traditional Jewish marriage contract, the ketubah, we often imagine a plain document, written in Hebrew and adorned with a simple illustration. But times have changed, and so have modern ketubah designs. Today, a ketubah is a piece of art, a timeless keepsake of one of the biggest moments in life.
Custom ketubahs speak to the Jewish wedding tradition while also providing beautiful artwork to cherish for generations to come.
Interfaith Ketubahs are Both Modern and Traditional
Jewish couples today are looking for unique ketubot, something that reflects their unique personalities and style. An interfaith ketubah satisfies the Jewish wedding tradition while respecting modern values ideas that might fall outside of what's typical for ketubah text.
Though the way we live continues to evolve, love and commitment endures the ages. Modern ketubahs are a statement of love and commitment throughout a couple's life together while reflecting and respecting the progressive values of the modern world.
One of the ways that modern ketubahs stand out from more traditional examples is through the use of unique materials. It is not unusual to see an interfaith ketubah made using a variety of materials, such as glass, metal, or even wood. Such materials add a new dimension to the design, resulting in a stunning piece of art.
When displayed in the home, this beautiful artwork is truly something to behold. Hand-painted and meticulously lettered, the modern ketubah uses words and phrases that have deep meaning for the Jewish couple. More than just a symbol of their wedding vows, a custom ketubah commemorates a moment in time, forever immortalized by the artist in a way that can never be replicated with words, art, color, or detail.
Modern Ketubahs in the Jewish Faith
The tradition of ketubah is unique in many ways. Many faiths have ancient ceremonies and rituals to commemorate a couple's wedding vows, but most are rooted in philosophies and ideals that have not changed to reflect the times. A modern ketubah celebrates individuality and inclusion with language that can be adapted to a Jewish couple's taste and style preferences.
For an example, we see a growing prevalence toward using non-traditional shapes. Ketubah artists consult closely with the Jewish couple to create ketubahs that speak to their love. Some may be in the shape of a heart; others could be shaped like a star. Still others may base the design on a more abstract shape to add a sense of movement and fluidity to the design.
And of course, there are many modern ketubahs that stand out through their use of unique imagery and symbolism. It can be said that even though the ketubah is an ancient Jewish wedding tradition, the practice has evolved with the times, just like we have as people.
Some artists draw inspiration from nature, others from modern art. And though many still base their artwork on a more familiar form of this cherished Jewish wedding tradition, the variations are never typical and can often be described as awe-inspiring.
Papercut Ketubahs by Danny Azoulay
One of the most popular styles for modern ketubahs is the paper cut design. These incredible ketubahs are meticulously created by hand as the artist intricately cuts away layers of paper to reveal the design. The paper cut ketubah effect is both delicate and bold, resulting in a ketubah as unique as a snowflake, each with a sense of depth and movement that is nothing short of mesmerizing.
Many Jewish couples choose paper cut ketubahs to have something that can never be repeated, never equalled—a metaphor for the strength and rightness of their love and union. But when a paper cut ketoubah is preferred, it's essential to choose the right artist as it's an incredibly detailed task that few can master.
When it comes to unique ketubah designs, including papercut ketubahs, one artist that stands apart from the rest is Danny Azoulay. Danny Azoulay's ketubahs are recognized as true masterpieces as they possess a level of detail and craftsmanship not often seen in modern times.
An interfaith ketubah from Danny Azoulay is one of a kind, incorporating a wide range of symbolism and imagery that takes on a life of its own. His papercut ketubahs are especially breathtaking and include fine, detailed cuts that create incredible depth and a dimensional quality that invites the viewer to explore its immersive qualities.
Unique, Beautiful Ketubah, Interfaith Ketubah, Custom Ketubah for You
Each of Danny Azouley's beautiful ketubah designs are truly special. Each stands out as a piece of art in its own right, thanks to their uniqueness and creative detail.
To see perfect examples of some of the custom ketubah and watercolor ketubah we've described here, we invite you to discover The Color Pallette and the Joy Ketubahs. Each of these one-of-a-kind modern ketubahs are based in tradition, yet brimming with contemporary inspiration.
For a more classical take on ketubah designs, take a look at the Antique Lace or Azure ketubahs, each of which are inspired by ancient Jewish wedding tradition.
No matter what your style might be, both as individuals and together as a couple, Danny Azoulay can create a beautiful ketubah you will both love.
Danny Azoulay's modern ketubah creations are wonderful illustrations of a Jewish couple's devotion to one another. Without a doubt, they will be cherished by the couple, their children, and their children's children for ages on end.
The choices are endless, and it is up to each couple to decide what will best represent their love and commitment to one another. It is important to remember that a ketubah is not just a document, but a work of art, a symbol of love, and a reminder of promises made to each other on your wedding day.
The style, design, or material you choose for your custom ketubah will be unique to you, an enduring reminder of your wedding vows, and a symbol of love everlasting. Explore the possibilities! Browse our collection of modern ketubahs today.