The Ketubah: its Meaning, Importance, and Implications in Jewish Tradition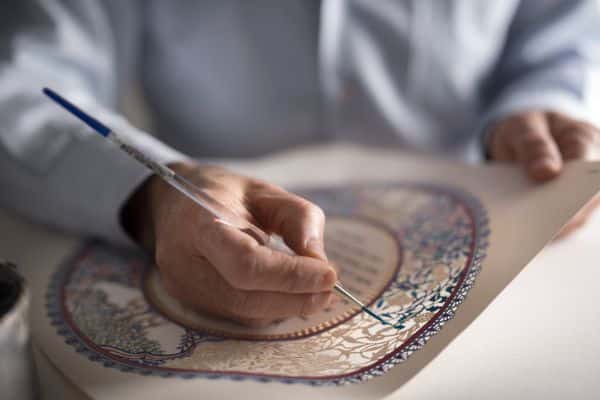 According to Jewish law, a Jewish wedding must meet two fundamental requirements. The first is that the bride and groom willingly enter into their marriage, and secondly, a Ketubah legitimizes the marriage. For Jewish couples embarking upon their future married life, one of the primary considerations in their wedding day plans will include choosing their Ketubah, introduced during the Jewish wedding ceremony, and becoming a lifelong treasure and family heirloom.
The significance of the Ketubah's history and implications for the modern Jewish marriage are essential factors in determining the direction affianced couples may take regarding wording and design. Certain traditional aspects remain part of the document. The information provided below may help you on your journey to discovering the perfect Ketubah.
Definition of Ketubah
In simple terms, a ketubah is a Jewish marriage contract. The document is written in either Hebrew or Aramaic, or a combination of both, and repeated in the couple's language. Depending on location, some Ketubah designs also feature Yiddish or Ladino.
The word Ketubah is Hebrew for 'to write' and refers to a marriage covenant. The traditional document is made from parchment paper, with wording in ink, while many modern ketubah designs are premade templates. Both types consist of intricate design work and symbolism.
The Ketubah is presented and read by the Rabbi during the Jewish wedding ceremony, then signed by witnesses, and optionally by the bridal couple and Rabbi. The traditional civil contract includes words indicating that the husband undertakes to financially support and maintain his wife unto and beyond death or divorce, bestow affection during their lifetime together, and fulfill her sexual needs in addition to food and clothing.
Modern couples are forgoing many of these contractual points in favor of more personal shared values, emphasizing the Jewish couple's agreed-upon terms of their marriage and their mutual vow to remain faithful to each other.
Today, the only location that a Ketubah remains a legal document in the civil courts is within the state of Israel.
Origins of the Ketubah in Jewish Marriage Tradition
The first recorded version of a Jewish marriage contract, or Ketubah, dates back over twenty-five hundred years ago during Egypt's fifth century. The agreement was officially established nearly one thousand years later, and the Ketubah became a Jewish marital rite of passage.
The Ketubah was developed to protect the Jewish wife and keep her role wholly distinct from that of a concubine. Men were not permitted to live with their wives without a Ketubah.
Early Ketubahs recorded property, monies, shelter, food, clothing, and other assets to be gifted to the wife upon marriage and provide for her wellbeing after the husband's death.
Throughout the centuries, Ketubahs have remained as a permanent part of the Jewish wedding tradition, sewn initially into the bride's dress, and now presented to the wedding party by the Rabbi.
Significant Elements of the Jewish Ketubah
The Mitzvah, or commandment, is the foundation and most fundamental aspect of Ketubot. It embodies traditions and vows and is the central aspect that makes every Ketubah design unique from others.
The Ketubah is an official record of the Jewish wedding ceremony, listing the date and location and recording the names of the bride, groom, and their parents. Signatures of those chosen as official witnesses, not blood relatives, to the marriage are required, and although not mandatory, the groom, bride, and Rabbi are known to sign the Ketubah. In addition, some Ketubahs will begin with a prayer, usually written in Hebrew, that God bless the wedding couple and their families.
The intricate and beautiful artwork found in ancient and contemporary traditional Ketubahs is breathtaking. It emphasizes the love and honor of the Jewish faith and culture alongside the couple's love.
Evolution of Ketubahs in Modern Jewish Weddings
While the Ketubah remains a sacred document still retaining much of the traditional meaning, those with more liberal views personalize much of the text to reflect their spoken vows and values. Modern Jewish couples wish to express their commitment to each other rather than feel like they are signing a legal document or contract to solely protect the bride's interests, especially with interfaith couples.
Interestingly, couples from other backgrounds and faiths are now adopting the concept of a Ketubah, using interfaith Ketubah within their wedding ceremonies.
The Ketubah is a beautiful and artistic testament to a couple's commitment and love. Many couples are unafraid to add unique elements that may include a dash of humor, poetry, or promises unrelated to their vows and incorporate non-traditional symbolistic elements, such as wildlife or nature, to reflect their lifestyle. Danny Azoulay is a master designer and artist of personalized, hand-crafted Ketubot and has won international acclaim for his exceptional work in modern Ketubahs with traditional flair.
After being presented at the Jewish wedding ceremony, the Ketubah is usually framed and hung in a place of honor within the household.
Which Ketubah is Right for You?
When searching for a modern Ketubah that suits your lifestyle and beliefs, there are many factors to consider:
1. Design
Initially, couples start by choosing their design. Should it be modern or traditional? Traditional Ketubot usually contain scrollwork, intricate patterns, and rich colors. Modern ketubahs tend to be minimalistic with less ornate scrollwork and color.
2. Size and Shape
Ketubahs come in a few different sizes and shapes. They can be square, round, or rectangular, depending on how the couple plans to display them in the future. Size is another consideration, as modern Ketubahs can be very large or relatively small to fit into a frame for display.
3. Material Used
There are several options for material when choosing your Ketubah. Most modern Ketubahs, even those with traditional design, are created from fine-quality paper or parchment. Fabrics like silk and linen are also sometimes used.
4. Text
For traditional Ketubah, it may be a good idea to consult with your Rabbi on the appropriate language and wording style. The text may be handwritten or pre-printed, and the technique should be legible and reflect the design of the Ketubah.
The ancient tradition of the Ketubah has existed throughout the centuries to today's Jewish wedding ceremonies and marriages. It remains a symbol of Jewish marriage and maintains its place in modern Jewish culture.
When choosing a Ketubah, there are countless options available, from predesigned manufactured templates to hand-made, award-winning personalized artwork, such as Danny Azoulay Ketubahs. The decisions can be challenging, but the first step for the couple is to agree upon a theme that ties in with their taste and lifestyle, which may be traditional or lean towards a more contemporary design.